You already know the most important thing about the DoggiePubs team; that we are passionate about finding a decent pub to visit together.


Shortly after the turn of the century, Kate and Simon and their new baby Border Terrier Millie begun to make a list of their favourite friendly pubs. It soon became clear that not all pubs welcomed Millie (how could this be?!) and so, many a day out was spoilt driving round the countryside in search of some lunch or even a pint and a snack that would incluide the whole family.


This list grew and grew and hey presto became computerised, (with the help of web-master Gabriel). No one could have imagined the success of this humble list, so really much clapping and wagging needs to go to YOU our loyal and active Supporters.
Now, 15 years on from the birth of both DoggiePubs and little Millie, life has taken the inevitable turn. Our faithful Millie is resting peacefully, tucked up beneath the Ashdown Forest turf in her garden. DoggiePubs will remain her legacy.
Other changes here at the DP headquarters have been that Kate and Simon have handed over the running to Gabriel and Colette. So a big cheer must go to them for it is no small task to manage the constantly updating website.

Should you wish to contact us please email Colette@doggiepubs.org.uk. If on the other hand you would simply like to keep up to date with DoggiePubs news, do join our Facebook page and follow us on Twitter.

We cannot resist an ironic smile and welcome to anti-dogists (strangely they do exist) - we are told some people use our site so as to know which pubs to avoid!! But we are pleased about this as it means our listed pubs will be just filled with friends!

What You Think About Us
We know it is not very polite to show off (except at Crufts) but we thought you might like to read a snippit of what others think about us:
'My favourite doggie pub from your website (so far) is the Millers Arms in Canterbury.  Went there on Monday and whilst I was snoozing in front of the log fire the owner brought me a bone china bowl full of hand cut Black Forest ham – yum yum!
Love your website, you have enhanced my life immeasurably' .........from Lord Lunchwell of Crundale
Hi Millie!
Just wanted to drop you a note to say thank you for your great site and App. I recently discovered it and it helped us have an even better holiday in the Cotswolds recently.' .... from Ludo
Hello Millie, I would like to become one of Millie's supporters and help to maintain and develop her excellent doggie pubs web site. My two legged friends (Tony and Sue) have used the site a lot, and I have been made very welcome in Wales, Scotland, Devon, Shropshire and my Gloucestershire home county. ...........Bracken
Noble of the Springer Spaniel Clan
Just wanted to say thanks for the great info that you have provided on your site, it helped us to find a really special pub that would allow us to bring our dog in so we could enjoy my birthday yesterday together. I have to say that this was the most enjoyable birthday I can remember, it was so wonderful for a pub of this quality to allow our little rascal to join us & I highly recommend it to anyone. ...........Maria, Michael & Druid
Hello: we also have a Border Terrier (called Smudge) and it is great to know places where he will be welcome.  Smudge really likes pubs with pianos as he loves to sing. .......DP supporter

Keep up the good work on your fantastic web site. ...... Les
Hi Millie
Big thank you, just found your site thank you - its now top of my book marked list ......Pete
We thank you so much for your help, we are on holiday with our "Poppy" & have had a lovely snack in the "Snakecatcher" in the New Forest, we are now moving on so you will be our constant companion. ...... Linda
We use the doggie pubs website all the time and it has been my reliable source of dog friendly pubs in Cheshire, Cornwall & the lakes! I shall now follow you on twitter! ...... Sam
"Loving your website - we visited the Whalebone in Fingringhoe a few days ago. My puppy Jake's first trip to a pub and he had a great time." ....Lynn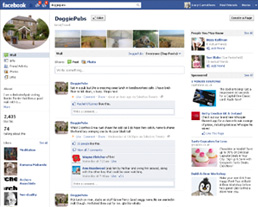 Useful Books